How Fort Lauderdale lawyer Scott Schlesinger came to be one of the largest collectors of Highwaymen art began with boyhood memories of his father's Hollywood law office.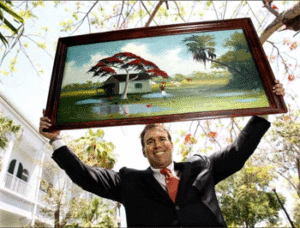 Sheldon Schlesinger's 1960s walls had been decorated with cheap but beguiling oils of Florida landscapes by some of the 26 mostly self-taught African-American artists from Fort Pierce who sold art from the trunks of their cars along the state's coastal roads. Today, these artists are known as the Highwaymen.
The images evoked by those paintings – the deep hued brilliance of Poinciana trees, wind –swept palms bent against the foamy sea, backwoods roads at dusk – would lie dormant within Schlesinger's memory for more than two decades before they reemerged.
"I was in Lakeland for an appellate hearing in the courthouse," says Schlesinger, a suspender-sporting, third-generation Floridian. "I was drawn to the art, to these beautiful, postcard pictures of Florida."
Schlesinger, 49, already a passionate collector of Florida landscapes, many of which grace the walls of his two-story Key West-style office, began chasing and promoting the works of the Highwaymen. He invested in their newfound glory because he says he believed in the artists and the making-do story that inspired them.
Schlesinger discovered the power of this regional art movement – now the subject of websites, several movie scripts, festivals, a PBS documentary, a heritage trail and half-dozen books, including Catherine Enns' The Journey of the Highwaymen (Abrems, $40), published in April. Enns, who grew up in Fort Pierce, includes images of several of the paintings in Schlesinger's collection. More are on display through June 30 at eh Spady Cultural Heritage Museum in Delray Beach.
"Scott is a patron of the arts. He is generally interested in the Highwaymen art and Florida art in general," says photographer Gary Monroe, author of three books about the Highwaymen. "Growing up here, he has an authentic connection to these paintings."
Almost since that moment in the courthouse, Schlesinger has pursued the Highwaymen's story, an enduring narrative that springs from the intersection of art, commerce, race and Florida history.
During the fog of segregation in the 1950s, landscape artist A.E. Backus, a middle-aged white man, opened his Fort Pierce studio to black students, oblivious to or because of racially divisive social norms. He mentored Harold Newton and taught Alfred Hair, the best known of the Highwaymen. Hair taught others. From these improbable roots developed an industrious, bohemian cooperative of 25 men and one women. The group eventually produced up to 200,000 paintings – each artist driven by the possibilities of a quick and decent dollar without having to spend hard hours of labor in the citrus groves.
The landscapes of tropical and rural Florida were often assembled factory style, painted on Upson board or Masonite, framed with crown molding and sold for $10 to $45. For these artists, the paintings were a creative means to an end. For their customers, the art was an affordable and nostalgic, if unconventional, way to cover the paneled walls of suburban Florida.
"Initially, I was just looking for a way to make an honest living," says James Gibson, 71, who still makes his living as a painter in Fort Pierce and has landscape on display in the White House. "I Started out making frames for Alfred Hair. Then I started painting, more as a friendly competition with Hair. We painted as fast as possible. Others could paint better, but I tried to study Me. Backus. I finally slowed down like he told me and really began to work with the colors."
Almost as quickly as the art became vogue, its popularity waned, forgotten in attics or sold at garage sales and flea marketing. Some Highwaymen continued to paint in obscurity. Some stopped painting altogether. Al Black, the group's top salesman, went to prison, where he ended up painting murals. Hair, the leader whose pace and sweeping techniques came to define the style, was murdered in a bar at 29. Schlesinger would later scour Fort Pierce police records to identify his shooter for a documentary.
The artists might have remained a quirky, dim chapter in Florida's history without the efforts of Jim Fitch and Gary Monroe, who embraced the bona fide genre that captured an idealized, if not quite mythical, vision of Florida's past.
AN IDENTITY
Fitch, an art collector and museum curator, published articles in art and antiques magazines and in 1995 coined the Highwaymen name, giving the artists an identity, even though some shunned the term for its possible negative connotations. Monroe's first book, the definitive The Highwaymen: Florida's African-American Landscape Painters, published in 2001, traced the art from neighborhood oddity to collectible, fueling its renaissance.
Almost a decade later, Highwaymen art continues to be celebrated as American folk art, rather than as kitschy souvenirs of old Florida. The artists (19 are living) were inducted into the Florida Artists Hall of Fame in 2004.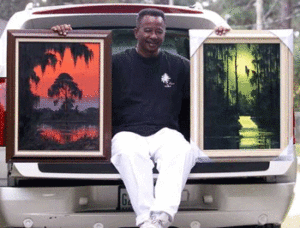 "Artistically, the Highwaymen are important because they created the work of the people. They created folk art, "says Robert Hall, a visual-arts specialist at the Smithsonian's Anacostia Community Museum in Washington D.C. "You are talking about people with very little formal training driven to document history and the topography of the land."
Schlesinger's art epiphany unfolded about 1998, several years into the revival, as Florida rediscovered its mid century roots, and the prices of the art began to soar (and original Highwaymen painting now fetches up to $30,000.)
Artist R.A. "Roy" McLendon escorted Schlesinger back in time.
"After I saw the art in the courthouse, I had a couple of dealers come to my office to present paintings for me to buy. One of them was a McLendon deep sunset in the back country. It was black and orange and primitive in nature," Schlesinger says, sitting in his office filled with works by Canadian-American impressionist Ernest Lawson alongside Highwaymen art. "And it hit me, this was like the pictures I had seen as a kid growing up. All of a sudden, this buried childhood memory came back."
Schlesinger is midway through the story when his father strolls into the room.
Are we talking about Highwaymen art? I bought those paintings still wet from the trucks of the guy's cars," Sheldon says. "Musta paid $35 bucks each. I really liked the art. But like all things, they disappeared."
CAPTURED IMAGES
Until now, Scott Schlesinger purchased that McLendon picture for about $300, moved by what the oil postcard symbolized. For him, it captured Florida's most precious native scenes, intrinsically told stories and somehow protected memories.  "I was looking for art showing the landscapes before everything changed. I still remember the sugar sand and the scrub, the oak trees and burrowing owls and indigos snakes and red-cockaded woodpeckers, " he says, almost wistfully. If you are old enough to remember that Florida, then you miss it."
Schlesinger was born in Miami and grew up in Hollywood. He spent summers at his dad's hip, fishing at Hollywood beach and playing along its dunes. He lived in a house on Fillmore Street in a new subdivision in which some of the lots were still carpeted in scrub, pine and palmetto.
He went to Brown University, then followed his father's path, becoming a civil trial lawyer. He now lives in North Miami with his wife and three children.
The McLendon piece was the first of a collection that has blossomed into at least 100 paintings. Schlesinger turned to the internet, now a brimming marketplace for Highwaymen art. He bought a Sam Newton online for $800. The owner had paid about $5 at a flea market.
Something about the pictures intrigued me, and I wanted to know more. I just felt like I had a responsibility to really learn the art, the techniques, the colors the compositions," he says. "And the stories behind the art."
Eventually, he began narrowing his choices to rare paintings featuring people and Highwaymen "trios": Backus landscapes and their interpretations by Hair and Newton.
One of this most prized pieces is believed to be a self-portrait of Newton. The image, unfolding in stormy blues and greens and a pop of red and dating back to the 1950s and 1960s, shows Newton sitting on his porch steps, head arched back, guzzling a bottle of something good. His mama, hands on her hips, glares disapprovingly.
Schlesinger, who already owned more than two dozen Newton paintings, waited for more than two years for the owner to sell before finally striking a deal a few weeks before Christmas in the parking lot of a prison in West Palm Beach. He also helped underwrite two of Monroe's books, a documentary that eventually ran on PBS and an exhibit at the Museum of Art in Fort Lauderdale. Highwaymen Newton & Hair: The American Dream in the Sunshine State, which opened in 2006, explored the work and motivations of the two most well-known artists.
Schlesinger says he has pulled out several other projects because he believed they were more deal-driven marketing efforts to sell the art rather than those that add scholastic or cultural value.
Now, he is on board to invest in a movie portraying the lives of Hair and Newton, if the project gets off the ground.
"The art resonates because it is Americana. I want people to have the opportunity to absorb the art, which provokes discussion and consideration, "he says. "Yes, absolutely you can collect art. But you should share it."